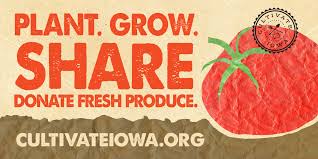 Cultivate Iowa is an initiative of the Iowa Food Systems Council's Food Access & Health Work Group (FAHWG) to promote the benefits of food gardening and produce donation to create a sustainable future and healthier communities in Iowa.
Through outreach and community engagement, Cultivate Iowa aims to inspire Iowans to grow some of their own produce and live healthier lifestyles. In addition, Cultivate Iowa is focused on empowering gardeners and community members to donate fresh produce to their local food pantries or other community organizations.
"This project aims to cultivate food security and improve [the] health of Iowans by increasing access to garden produce through integrated coordination, social marketing and outreach strategies" explains project coordinators Angie Tagtow and Elizabeth Danforth Richey.
Through research, we assessed the various perspectives of those who may be impacted by food gardening and produce donation to give us a holistic understanding of how individuals, households, organizations, communities and social factors influence food gardening in Iowa. Information was collected from FAHWG partners, food pantry staff and volunteers, low-resource Iowans, and current food gardeners, and was used to develop the Cultivate Iowa program. The intent of this campaign is to increase household and community food security in Iowa through food gardening.
LINKS
Learn more about the Iowa Food Systems Council
Learn more about the Food Access and Health Work Group
To review the research and findings
CONTACT
For more information about Cultivate Iowa, please contact info@cultivateiowa.org