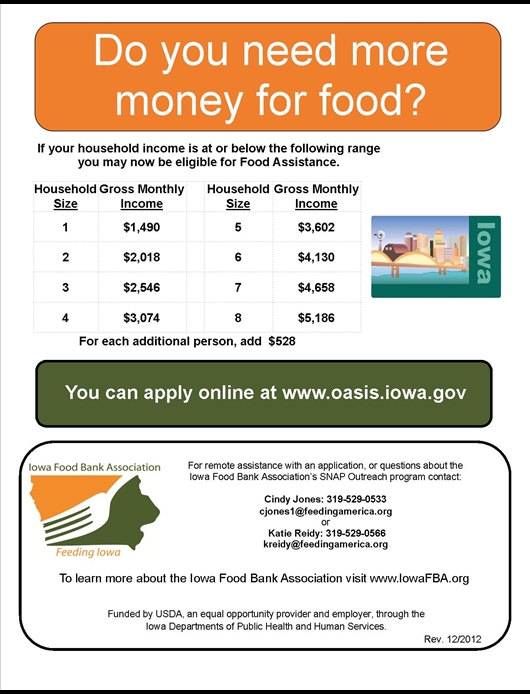 DHS Online Application for State of Iowa Services (OASIS) : The state of Iowa's application for the Department of Human Services (DHS) programs. Here is how OASIS can help you.
Complete an Assessment
If you answer the questions in the assessment, we can tell you what programs your household members may be eligible to receive. The information you give us in the assessment is confidential. We do not keep this information. You do not have to fill out the assessment. You can go directly to the online application and apply for all of the programs you choose.
Apply for Programs
You can apply for DHS programs in about 10-25 minutes. Your time online will depend upon the programs you select and the number of persons there are in your household.
Women, Infants and Children (WIC) : A supplemental nutrition program for babies, children under the age of 5, pregnant women, breastfeeding women, and women who have had a baby in the last 6 months. WIC helps families by providing healthy foods, nutrition education, and referrals to other health care agencies.
Low-Income Home Energy Assistance Program (LIHEAP) : The Bureau of Energy Assistance administers the Low-Income Home Energy Assistance Program (LIHEAP). This federally-funded block grant is designed to aid qualifying households in the payment of a portion of their residential heating costs for the winter heating season. The program's energy crisis intervention components are designed to provide immediate response to alleviate potentially life-threatening situations, and the client education component of the program provides funds for activities that encourage regular utility payments, promote energy awareness and encourage reduction of energy use through energy efficiency, client education and weatherization.